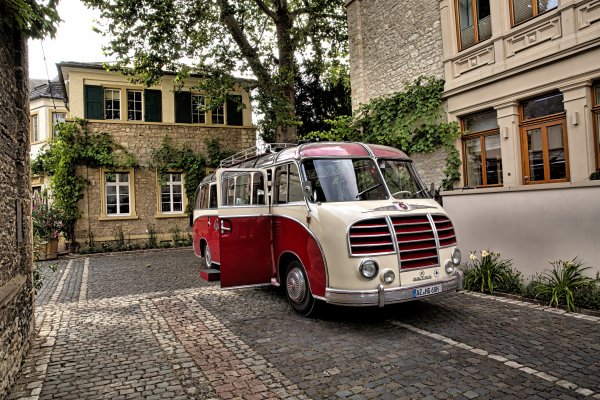 IBB Oldtimerbus wine pairing tours
The popular culinary nostalgic bus tours will be continued in 2020.
The plan shows:
saturday may 30th 2020
saturday june 27th 2020
saturday august 29th 2020
At the moment the tours are in planning status. They will include a four-course menu which will be served at four different locations - each course at a loaction. At every loacation a different winemaker will introduce his pairing wines to the dish. You will be driven to interesting and beautiful wineries and restaurants in the biggest german wineregion "Rheinhessen" and the surrounding wineregions with the original Kässbohrer Setra S8 which was built in 1953.
Look forward to a wine adventure, experience the magic of wine and let the evening fade away with an overnight stay at the wonderful IBB Hotel Ingelheim.
In the last years we got to know the following locations and wineries: Schloss Westerhaus, Lanius-Knab, Hildegardishof, Restaurant Fetzer, Jordan's Untermühle, J. Neus, Arndt F.Werner, monestry Eberbach, Immerheiser, Listmann, Jens Bettenheimer and Oliver Eckardt. Let us surprise you with our choice for 2020. Come back to this page soon for more information or send us a mail to get further information when we have planned the details.