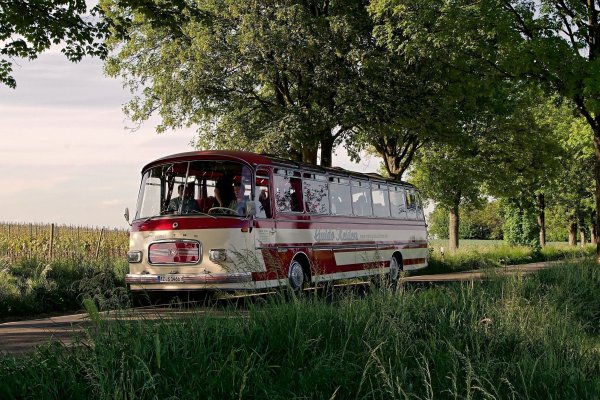 IBB Oldtimerbus Geniessertour Mittelrheintal trifft Rheinhessen
Up for adventure? The Setra Kässbohrer Oldtimerbus and IBB Hotel Ingelheim will take you on a culinary wine pairing trip around the region!
Experience a unique journey of taste and flavour through Rheinhessen and along the middle rhine valley route to Oberwesel. Enjoy a four-course menu in four different locations with wines from four different award-winning winemakers. Your evening will continue at Ingelheim's and the regions most renowned wineries including:
We will start at the awarded winery J. Neus in their famous winecellar. Afterwards we will drive with with the oldtimerbus to winery Lanius-Knab in Oberwesel. From there we will make our way back via Bingen, where we are going to stop for the main-course at winery Hildegardishof before returning to the IBB Hotel Ingelheim for the dessert. The winemaker Listmann will accompany with pairing wines.

Let the wine do the magic and end your night with a well-deserved overnight stay at the wonderful IBB Hotel Ingelheim.
Oldtimerbustour inclusive 4-course-menu at 4 locations with wine-pairing and water
Singleroom: 239€ with oldtimerbustour
Doubleroom: 204€ per person with oldtimerbustour
Oldtimerbustour pure without overnight stay: 159€ per person